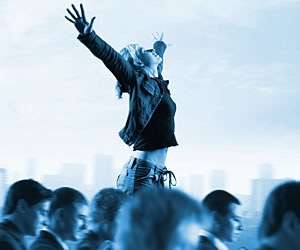 Leadership Development
Our leadership training, leadership coaching and leadership development programmes help managers through to senior leaders develop their knowledge, skills and behaviours to bring out the best in their people, their teams and their organisation. We design bespoke programmes to meet your needs, ranging from individual coaching sessions, to modular skills-based sessions and we offer our core Leadership Development Programme.
The Leadership Development Programme: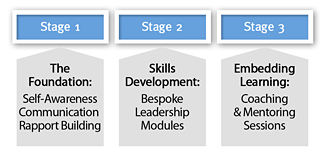 The Leadership Development Programme is for senior leaders who are looking to improve their performance and hone their skills. This programme will give leaders an in-depth understanding of best practice leadership behaviours and practices including how to inspire engagement, drive trust and create loyalty and accountability.
The Leadership Development Programme comprises of a 3-stage approach which starts with a foundation stage of self-awareness & building rapport, this is followed by bespoke leadership modules and the final stage consists of embedding the learning with coaching and mentoring sessions.
Stage 1 – Self-Awareness, Communication & Rapport Building
During this stage leaders gain a detailed understanding of their behavioural preferences, including their communication style, decision-making style, value to a team, strengths and potential weaknesses and the impact they have on others. Participants leave this stage with dramatically increased self-awareness, awareness of the impact they have on others and tips and techniques on how to improve their communication and relationships with others.

Stage 2 – Bespoke Leadership Modules
Our bespoke modules build on the foundations of self-awareness and develop skills in core leadership practices. Our modules start with understanding the characteristics of best practice leadership, the difference between leadership and management and how to engage and motivate teams. We look at successful visions, missions and values across organisations and how to create one that works and is meaningful. We focus on how to lead by coaching and consider successful communication across organisations, what works and what doesn't and how to communicate most effectively to engage with others.
Modules include: best practice leadership, building engagement and trust, creating a vision, mission and values, employee engagement and motivation, coaching skills, delegation skills, communication skills, managing conflict, managing change, feedback skills and performance management.
Stage 3 – Coaching and Mentoring Sessions
Following the leadership modules, we recommend individual coaching and mentoring sessions to further develop and sustain learning. Following up with coaching sessions brings the learning back into focus, supports and develops the leader back in the real work environment and helps continue and sustain the learning.
" We have worked with Melanie over a number of years on leadership development programmes and executive coaching. The quality of service has been outstanding, and Melanie's depth of experience and inclusive approach have delivered training sessions that are informative, inspiring and enjoyable. The benefits to our business have lasted well beyond the sessions and have helped to facilitate real change. "
Stephen King
Managing Director Hardie Grant UK
Contact us for more information on Leadership Development and the Leadership Development Programme.