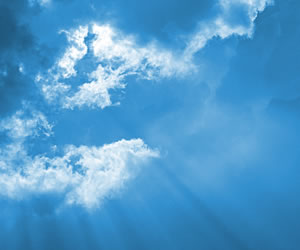 Employee Engagement & Culture Change
What is Employee Engagement?
Employee engagement is the emotional commitment employees feel towards an organisation and the actions they take to ensure the organisation's success. When employees are engaged,they use discretionary effort. They stay behind to get a job done because they feel accountable and want to; they pick up the cups left behind in the meeting room because they care about their workplace; they stand up for their company because they are proud to be a part of it and they find solutions to problems and create ideas to improve because they feel ownership. They care about their job, their customers, their team and their organisation.
How do Employees Become Disengaged?
Most people start a new role feeling engaged, so how does it change? The main reason is the culture of the organisation, the leadership and how people feel treated; how an organisation treats its employees has a direct impact on its employees' engagement.
How to Increase Employee Engagement
By creating a culture that values, encourages and develops its people and by developing leaders who engage, support and coach their people to be their best. Employee engagement isn't achieved through an employee survey, a suggestion box or a one-off initiative, in fact employee surveys and suggestions boxes can actively disengage people when the results are not communicated, or no actions are taken. Only a change in the way an organisation thinks, behaves and acts will achieve a culture of employee engagement and this requires an investment in time, energy and commitment from every leader within the organisation to drive and sustain it.
Our Culture Change Programmes
Our Culture Change Programmes support organisations who are about to go through or have recently been through change and want to create a company culture, values, and behaviours to drive employee engagement. We help organisations clarify, define and develop their values, behaviours and culture and we support them to gain the buy in, motivation and commitment to deliver and sustain a culture change.
We Help Organisations:
Create their mission and core values
Create behaviours to underpin the values
Review people leadership processes and behaviours in line with the values
Develop leadership behaviours and skills
Communicate and gain buy in to the change in culture
Establish feedback and coaching processes to sustain the change and drive continual improvement
The Change Process:
We deliver a 6 stage change process to communicate the rationale for change, define the desired culture, engage people in the new culture, improve skills and behaviours to drive and maintain the culture and create a process to enable the organisation to measure, manage and sustain the change.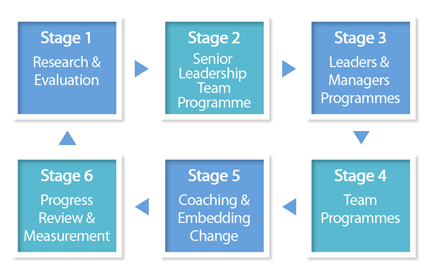 Stage 1 – Research & Evaluation
The research stage consists of analysis of available research and surveys and further qualitative and quantitative research if needed. The purpose of the research is to understand the current culture and then to use this information during the programmes as a catalyst to drive change.
Stage 2 – Senior Leadership Team Programme
The purpose of the Senior Leadership Team Programme is to gain buy in to the need for a different culture and style of leadership. The programme delivers core input, debate and discussion on best practice organisations, leadership and employee engagement and delivers in depth skills on communication, feedback and coaching. The mission and values are defined during this stage and behaviours to underpin the values. The Senior Leadership Team agree immediate commitments and actions to start to role model the change.
Stage 3 – Leaders & Managers Programmes
The next level Leaders and Managers Programmes follow on from the Senior Leadership Team Programmes.
The Leaders and Managers Programme delivers core input, debate and discussion on best practice organisations, leadership and employee engagement and delivers in depth skills on leadership characteristics, communication, feedback and coaching. The Leaders and Managers implement their commitments immediately following the programme and role model the change.
Stage 4 – Team Programmes
The Team Programmes consist of sharing findings from the research and gaining buy in, commitment and personal accountability for the change. At this stage there will have been visible and tangible changes from the leaders so there will already be credibility and buy into the change in culture.
Stage 5 – Coaching and Embedding Change
The process and support system to embed and sustain the change consists of regular, specific behavioural coaching sessions for all employees, driving a culture of coaching, feedback and continual improvement.
Stage 6 – Progress Reviews & Measurement
At 6 months intervals we return to review progress and measure change.
" People Results helped us, Simplyhealth to gain and transform the goodwill of hundreds of good quality people into real business advantage. In my opinion, few people can offer help in this fundamental way. I commend their skills very highly, knowing that my business has been truly enabled by them. "
Des Benjamin
President of the Institute of Customer Service & Former Group Chief Executive Simplyhealth
" The learning and support our teams were able to receive from People Results has materially changed our business for the better, whilst at the same time allowing every member of our business, at every level, to gain greater personal awareness and take away personal developmental goals. The overall process was hugely enjoyable and the results are infectious leaving you wanting to do more. "
Matthew Hogg
Director of Publisher & Customer Services, Macmillan Distribution (MDL)
Our Team Coaching Sessions are tailored to meet your needs and we offer face to face Team Coaching and Virtual Team Coaching.
Contact us for more information on Employee Engagement & Organisational Culture Change.